Infrastructure & Facilities
INSTRUCTIONAL FACILITIES
Our campus is well equipped with various infrastructure and facilities like the classrooms, faculty rooms, placement centre, library, computer centres, reception, offices, canteen, sports grounds, natural amphitheatre, guest rooms, etc.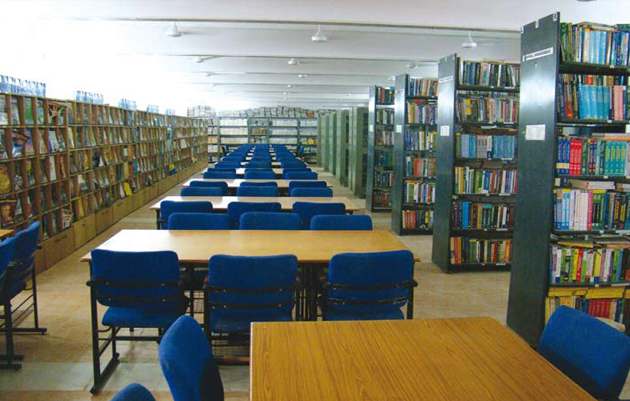 LIBRARY
The library plays a pivotal role in an educational institution. With a view to build a top quality library and not to fill up the library with junk books, at the inception in the year 2000 we had got a unique exercise carried out. On our request, the head of IIM Ahmedabad library analysed their books issuance records of five years and provided us a list of the most frequently issued books. Accordingly the first set of books was procured for Aravali library.

While each student is provided a set of textbooks and teaching material by Aravali, the library provides a place for extension reading. Presently the Aravali library has around 10,000 books and 1000 CDs & video cassettes on various areas of human endeavours and nation-building. We plan to add around 1000 more titles every year to the library.
COMPUTER CENTRES
With a view to ensure that Aravali students are able to use effectively the latest available information technology tools, we presently have over 125 computer systems from IBM/Lenovo and six HP laser printers, connected in Local Area Network (LAN). We also have 2 MBPS leased line facility through Airtel.
EDUCATIONAL AIDS
In our classrooms, computer centres, placement centre and library we have the latest teaching aids and equipments like computers, LCD projectors, overhead projectors, slide projector, white screens and magnetic whiteboards.
PLACEMENT CENTRE
To appropriately facilitate the placements of our students, we have the Placement Centre which consists of a large room with all the facilities where the organizations can deliver pre-placement talks. There are two connected rooms where the organizations can conduct group discussions, personal interviews and other aspects of the selection process of the students.
SPORTS GROUNDS
Our campus has three large grounds of 2.5 acres each, on which the students can have various extra-curricular activities including sports.